Weather officials in Japan and the Korean peninsula have issued warnings of freezing temperatures and storms that have killed at least one person and left thousands stranded.
The severe cold weather has already caused death, destruction and record low temperatures in the past fortnight, with at least 124 people dead in the region in Afghanistan and a record low of -53 degrees Celsius in northeastern China.
Large parts of Japan are currently in the grip of a bitter cold, with some areas expected to experience their coldest temperatures for a decade. On Wednesday, Chief Cabinet Secretary Hirokazu Matsuno said one person had died as a result of the typhoon and that two other deaths were under investigation. On the Korean Peninsula, temperatures of -25 degrees Celsius were recorded near the border between North and South Korea on Tuesday.
Heavy snow was forecast for central Japan and the country's northeast on Wednesday, while winds could reach 126 kilometers per hour across the country, the country's meteorological agency said. In the 24 hours till Wednesday morning, 93 cm of snow fell in Maniwa town.
In western Japan, some train passengers were stranded for several hours on Tuesday, according to the West Japan Railway, while domestic airlines said they would cancel more than 200 flights on Wednesday. Bullet train services in the country's north-east will also be suspended, Kyodo news agency said.
The Japan Meteorological Agency has warned that cold weather will continue until Thursday, with some parts of the country seeing their lowest temperatures in 10 years and the possibility of snow and violent winds along the Sea of ​​Japan coast.
Strong winds may also be behind the sinking of a Hong Kong-registered cargo ship in the sea between western Japan and South Korea's Jeju island early Wednesday, Reuters reported. Thirteen of the 22 crew members on board were rescued, but the search was on.
Authorities have urged people to avoid non-essential trips and to be alert for icy road conditions, public broadcaster NHK said. They have also warned that the water pipes will be cold.
Japan's northern main island of Hokkaido and as far south as Kyushu are expected to see subzero temperatures Wednesday morning. Temperatures are expected to drop to -3 degrees Celsius in Tokyo and -2 degrees Celsius in the western city of Osaka.
Cold conditions are also being experienced in the Korean Peninsula. South Korea's weather administration issued a special "cold wave" warning on Tuesday, as temperatures fell to -16 degrees Celsius in Seoul and -25 degrees Celsius near the North Korean border on the coldest day of the season.
North Korean authorities have issued an extreme cold weather warning for the entire country, with temperatures forecast to drop to "dangerous lows" in some of its poorest regions, NK News reported.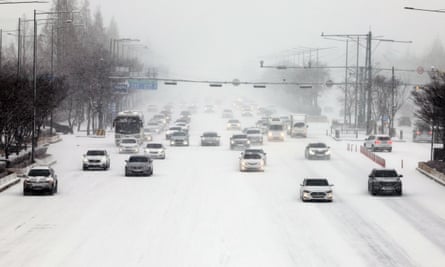 The website quoted North Korea's Central Radio Broadcaster as saying that temperatures in the northern part of the country could drop below -30 degrees Celsius. The temperature in the capital, Pyongyang, was -19 degrees Celsius on Wednesday morning, well below the average for this year. News added.
The weather system has seen the temperature fall below average across the country. At least 124 people have died due to cold in Afghanistan in the last two weeks. State officials told the BBC The weather was the coldest recorded in decades, with parts of the country completely cut off by snow. It has also killed around 7,000 livestock.
Parts of China also saw their coldest days on record, with the city of Mohe in the northern province of Heilongjiang, which fell to -53C. On Tuesday officials issued a "blue" warning – the lowest of four levels for severe weather.
A cold front saw China's temperature drop to 16 degrees Celsius below average. On Tuesday, the meteorological agency has warned that the temperature in the central and eastern regions will remain below average for the next ten days, even though the cold wave is receding.
In some areas of northern and central Taiwan, temperatures have also dropped with snowfall.
Additional research by Chi Hui Lin